Akshaya Tritiya, festival of "the never diminishing"
Akshaya Tritiya holds great meaning in Indian culture. It is symbolically and beautifully woven with Indian mythology since time immemorial. So many important episodes of Puranas, which suggest "bountifulness" or "endless grace", happen on this day.
It is the day of endless bounty for Hindus and Jains. "Akshaya" (Akshay) means 'the never diminishing' in Sanskrit and Tritiya means "third", since the festival is observed on the third lunar day of Vaishakh month. The day is considered to bestow triumph and good fortune; it is believed that whatever one wishes for, be it prosperity, success, spiritual gain or happiness, if prayed for on this day, it will be granted.
The importance and meaning of Akshaya Tritiya becomes evident with many great things that associated with this day. Did you know following episodes happened on Akshaya Tritiya?
The Incarnation of Annapurna
The day Parvati took the form of Annapoorna to save the earth from starvation was Akshay Tritiya.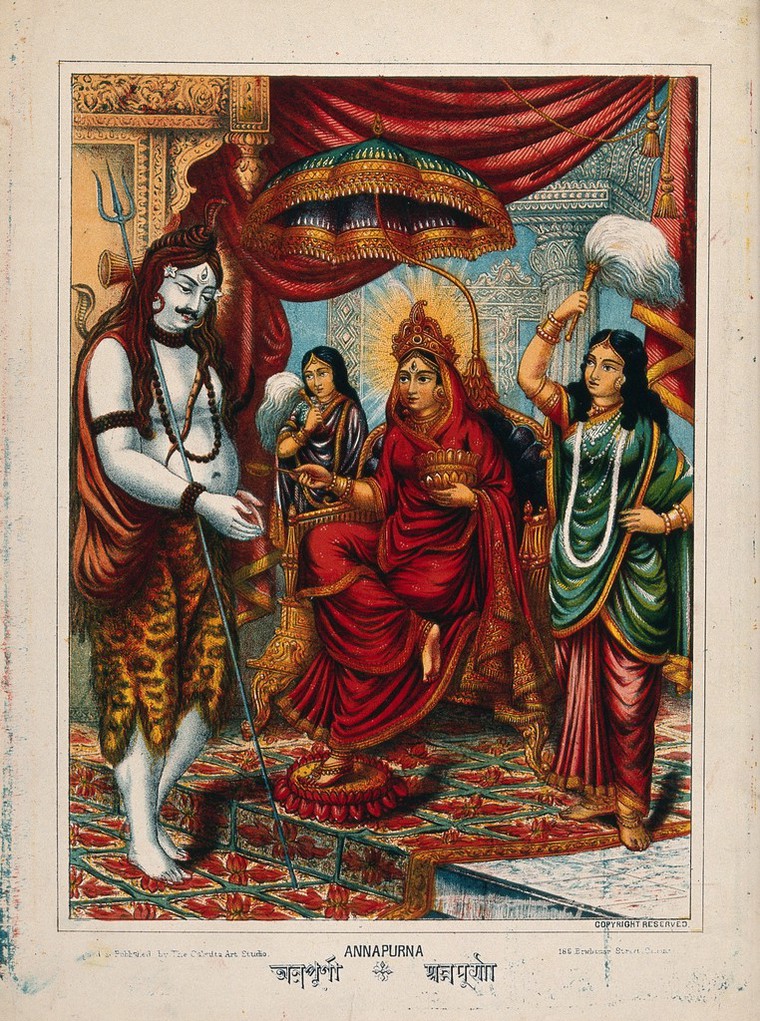 Once Goddess Parvati left  the earth and the earth became barren and bereft of food.  Hunger caused many creatures to perish, which Goddess Parvati could not bear to see and so she appeared in Kashi (Varanashi) as Annapoorna Devi and started to feed food to the needy. So since then Devi Parvati is worshipped as the Goddess of food- Annapoorna Devi.
Ved Vyasa dictating Mahabharata to Ganesha
It is believed that Ved Vyas along with Ganesha started compiling the Mahabharat on the day of Akshay Tritiya.
Rishi Ved Vyas urges Lord Ganesh to write the Mahabharat for him as dictates it. Ganesh agrees but on the condition that his pen should not stop even for a moment while writing. Ved Vyas accepts it, but to gain some time for thinking, lays a counter-condition that Ganesh must understand the verse before penning it down. Thus, Ved Vyas used difficult verses frequently so that the time Ganesha took to understand them bought Ved Vyas time to create new Shlokas!
The gift of Akshaya Patra to Yudhisthir
Yudhisthir received the boon of Akshay Patra from Surya on Akshaya Tritiya.
When Pandavas were in exile for thirteen years, a lot of Brahmans followed them into the forest. Yudhishthir, worried about how to provide food to the Brahmans, sought divine help and meditated on God Surya. Surya was pleased with Yudhisthir and gave him a vessel, Akshay Patra. This vessel could provide as much food as needed for any number of people everyday, until Draupadi partook her portion of the food.
Birth of Parshuram
The day Parashuram was born was Akshaya Tritiya.
One of the ten avatars or incarnations of Vishnu is, Parshuram. His parents, Jamadagni(one of the Saptarishis) and Renuka performed severe penance to get a divine child. Vishnu answered their prayers and was born from Renuka's womb as their son. The child was named Rambhadra. Shiva gave him Parashu(axe) as a blessing. Since then he became known as Parashuram, i.e. 'Ram wielding an axe'.
Sudama meets Krishna
This meeting of Sudama and Lord Krishna took place on the day of Akshaya Tritiya.
Sudama and Krishna were childhood friends who studied together in Sandipani Rishi's ashram. Sudama was a impoverished Brahman whereas Krishna was a royal. In later years, Sudama's wife once asked him to seek Krishna's help and meet him at Dwarka.
Krishna lovingly meets his friend and treats him royally. Sudama misses to ask Krishna for help but Krishna already knows and grants him all that he ever desired.  Sudama returns home empty handed and anxious, but to his astonishment finds a palatial mansion in place of his hut, his fortunes turned around.
Kuber
God Shiva bestowed upon Kuber this boon on the day of Akshaya Tritiya.
Kuber was made a demi-god by Lord Brahma and was made king of Lanka. Ravan seized the kingdom from Kuber and Kuber had to flee to the Himalayas. There he started to meditate on lord Shiva. Shiva blessed him with the kingship of Yakshas and the status of  custodian of all wealth on earth. Thus, Kuber became the god of all wealth on earth.
Ganga's descent to Earth
The day on which Bhagirath was able to bring Ganga to earth was Akshaya Tritiya.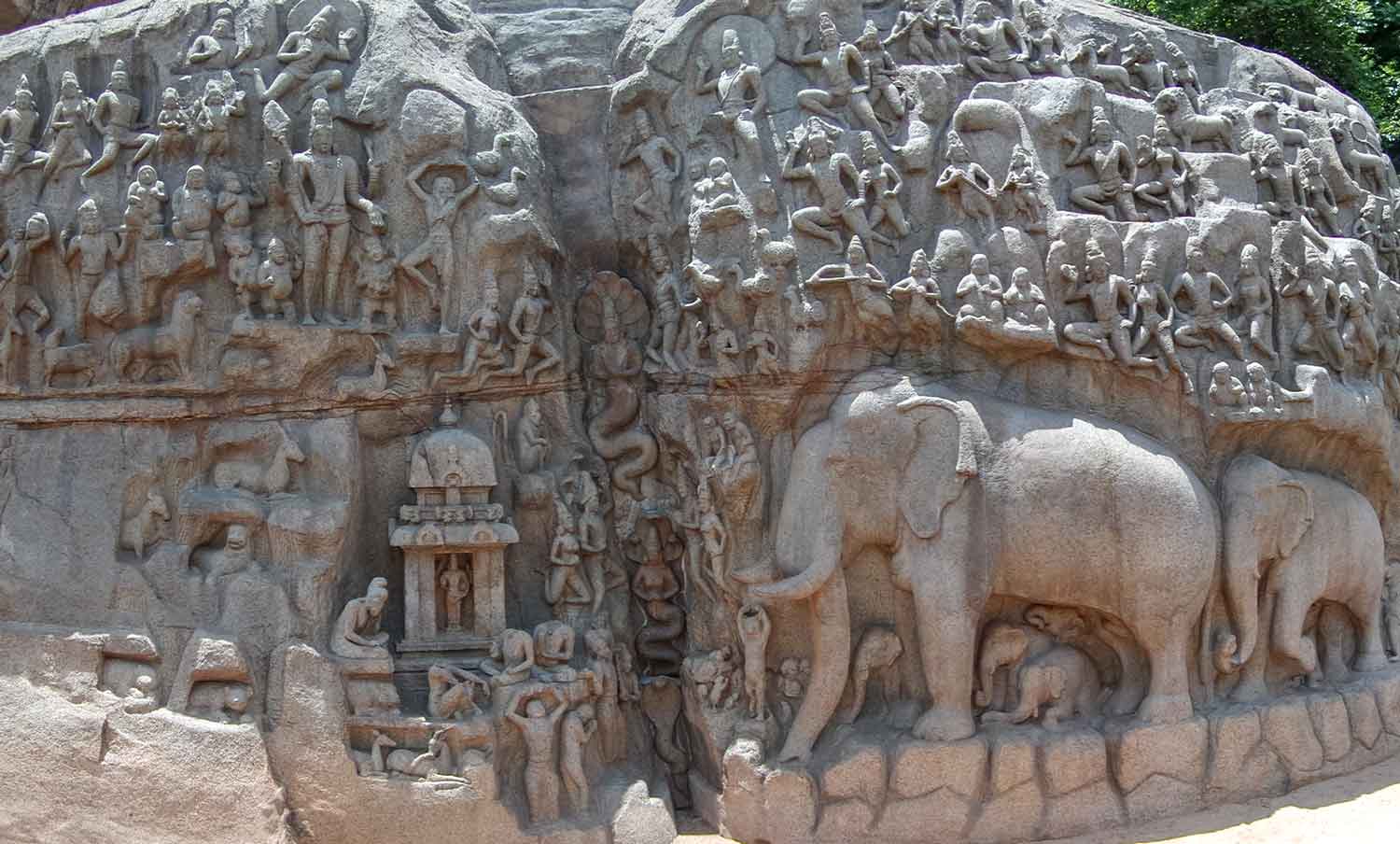 King Bhagirath of Suryavamsa, after severe Tapas, was able to bring the holy river Ganga down to the earth for cleansing the souls of his ancestors and give them salvation. Ganga's descent would be so catastrophic that it was feared that the earth would be swept away. Frightened, Bhagirath prayed to Shiva to receive Ganga in his matted locks first, and thus, diminish the impact of her fall on the earth. Shiva trapped Ganga in his tangled locks and let her down in seven distinct streams.
Draupadi Vastraharan
The day Draupadi's sari seemed endless was the day of Akshaya Tritiya.
Pandavas lost everything to Kauravas in the Game of Dice, including Draupadi. Duryodhan, the Kaurava Prince commands Dushasan to bring Draupadi forcefully to the court and disrobe her to humiliate her and the Pandavas. Draupadi, now Kaurava's slave, prays to Lord Krishna to save her honour. Dushasan unveils layer upon layer of her sari but by Krishna's grace her sari keeps extending and piling up on the  floor of the royal court until Dushasan stops due to exhaustion.
Construction of the great chariots for the Puri Rath Yatra
In Odisha annual construction of the great chariots for the Puri Rath Yatra festivities begin on Akshay Tritiya day.
The main street in Puri, begins to get stalls on the sides where new wheels and structural parts of the ratha are constructed and assembled. It is a great effort and a festive site with a flow of devotion to the great Lord Jagannath of Puri. Did you know the English word "Juggernaut" has origin in the ratha of Lord Jagannath? It means a "literal or metaphorical force regarded as merciless, destructive, and unstoppable. This usage originated in the mid-nineteenth century."