Blackbuck, the Indian antelope
The only surviving Antilope
Why is the Blackbuck so dear to Indians that even a celebrity is not spared if caught harming one? Yes, it is not a deer but an antelope, the only surviving member of genus Antilope in the world and is native to India. In India we know them by various names: Kaliyar, Kala Hiran, Krishna Mrig, Krishnasaar, Krishna jinka(Telugu) and Iralai Maan(in Tamil). They are found throughout India- west of Bengal, in grassy plains and thinly forested areas with a perennial water source. They thrive in semi desert grassy regions but avoid thick forests. The blackbuck's very peculiar V-shaped, ringed horns (35-75cm long) which resemble corkscrews have fascinated people for a long long time. The horns are generally present only on males, though females may develop them as well. Males stand about 5 ft tall with horns and are dark brown and white in color. Females are shorter, around 3ft tall and paler in color- dark fawn and white. Juvenile males turn dark gradually, notably after the third year.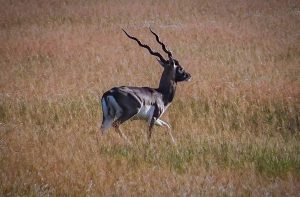 The blackbuck is a fast runner at 80 kilometers per hour (50 mph), slower only to the Cheetah which used to be used in hunting them during Mughal and British times. With the cheetah extinct from India, its predators are wild dogs, wolves, jackals and occasionally, village dogs. It employs spronking (leaping in air with an arched back and stiff legs) – a behaviour typical of Antelopes when in danger.  Blackbuck's lifespan is typically 10 to 15 years. Blackbuck babies are precocial – they can stand on their own soon after birth. 
Everyone loves the blackbuck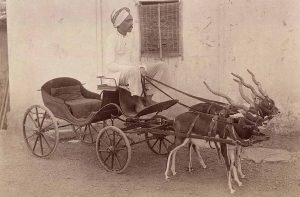 The blackbuck, called Krishna Mrig in Sanskrit has significance in Hinduism with its association to several deities and therefore, Indian and Nepali villagers do not harm the antelope, the reason why its largest population is found in India today. Communities such as the Bishnois revere and care for animals including the blackbuck. The Blackbuck was used as a heraldry symbol of several princely states of pre-independent India. It is the state animal of Andhra Pradesh, Haryana and Punjab. Their horns have inspired shapes of several weapons. It has recently become the part of the insignia of the Haryana Kabbadi team – Haryana Steelers. 
Will die for them!
The Bishnois are ardent nature lovers and are well known for protecting blackbucks, nilgais, chinkaras and all bird-life around their villages. In fact, Bishnois believe the blackbuck to be the reincarnation of their spirtitual Guru Jambaji (1451 CE). They protect them from poachers or any potential harm, in fact many Bishnois have laid down their lives protecting them from hunters! In caring for them, they go a step further…they let them graze freely in their farms and keep stone vessels filled with water near their homes for the wildlife. They rescue and rehabilitate injured blackbucks and others, sometimes sheltering them in their temple-compounds until they are ready to go back in the wild. Most astonishing is the fact that Bishnoi women sometimes even breast feed new-born rescued calves as if nurturing their own children!
Where to find them?
Blackbuck is native to Indian Subcontinent- Mainly in India and parts of Nepal, now extinct in Bangladesh and Pakistan. They were hunted extensively during the Mugal and British era, their population slowly stabilized after independence when protection was given to them by Indian laws. Interestingly, it was also introduced in Texas, USA in 1932 and it adapted very well to its new environment with its current population being 35,000!
In India, the Blackbuck can be found in the following protected areas:
Uttarakhand: Corbett National Park
Gujarat: Velavadar Wildlife Sanctuary,

 

Gir Forest National Park
Bihar: Kaimur Wildlife Sanctuary
Maharashtra: Great Indian Bustard Sanctuary
Madhya Pradesh: Kanha National Park, Bandhavgarh National Park
Rajasthan: Tal Chhapar Sanctuary, National Chambal Sanctuary, Ranthambhore National Park, Keoladeo National Park (Bharatpur Bird Sanctuary)
Karnataka: Ranibennur Blackbuck Sanctuary
Tamil Nadu: Point Calimere Wildlife and Bird Sanctuary, Vallanadu Wildlife Sanctuary, Guindy National Park