Rumi Darwaza, Lucknow, Uttar Pradesh, 1784 CE
Lucknow boasted an incredible city-scape!
Do you know Lucknow has many architectural gems and Rumi Darwaza is just one among them? Standing not too far from the bed of river Gomti, the imposing Rumi Darwaza is sixty feet tall and was meant to be a grand entrance to the walled city of Lucknow, when the capital of Awadh state was shifted from Faizabad (close to Lucknow) to Lucknow in 1775. It was built by Nawab Asaf-Ud-Dowlah in the year 1784.  Rumi Darwaza or "Turkish Gate" as it is called sometimes, is said to be modeled after a gate in Constantinople (now Istanbul, earlier in Roman (Rumi) empire) but we have not found any such gate as a reference. However, Rumi Darwaza has its own unique Awadhi Architecture capable of inspiring grand architectural masterpieces.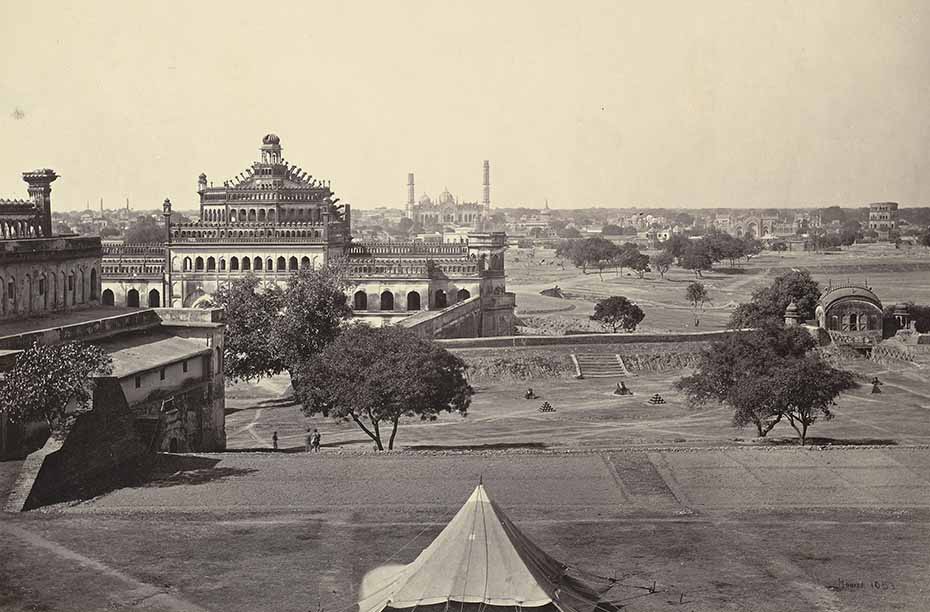 After the mutiny of 1857(India's first war of Independence), the British took over the kingdom of Awadh. Being an entrance to the city of Lucknow, when the victorious British army entered Lucknow in 1858 through this gate, one reporter of The New York Times who accompanied them was so struck by its beauty that he went on to put it on record. William Howard Russell, the reporter, had called the stretch of road from Rumi Darwaza to Chattar Manzil the most beautiful and spectacular city-scape that he had ever seen, better than Rome, Paris, London and Constantinople!
Rumi Darwaza – a trend-setter!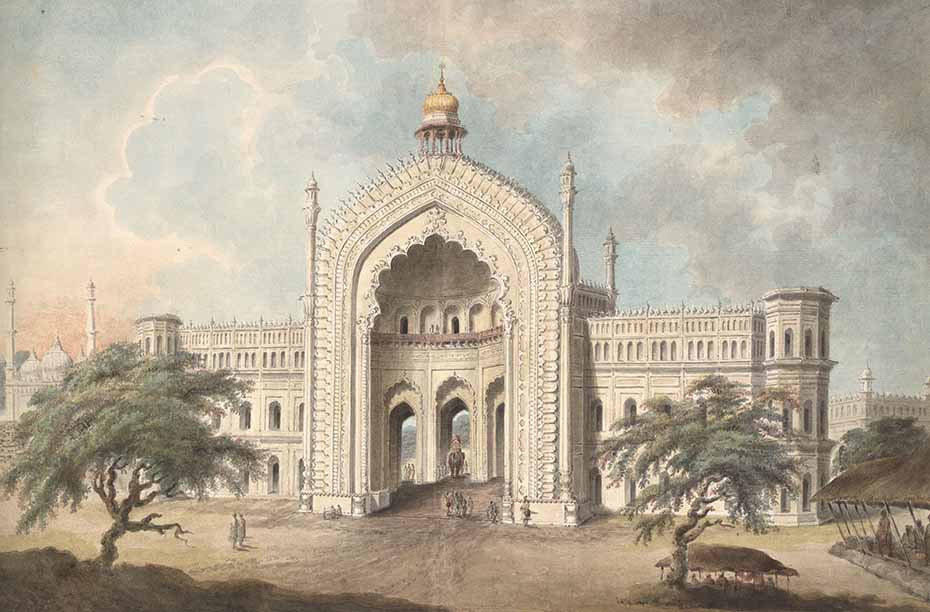 This grand gate must have acquired an iconic status right after completion because it set out to be a model for many other gateways to monuments in Lucknow that were built during those times. It has three arched-openings on one side and a single huge arch on the entrance side; the big arch completely awes the visitor from afar with its delicate detailing and fine proportions. The top of the gate used to have a huge lantern that would light it up at night. It still has little jets of water that would rush out of the sides of the arch from the carved flower buds that look like spikes around the huge arch.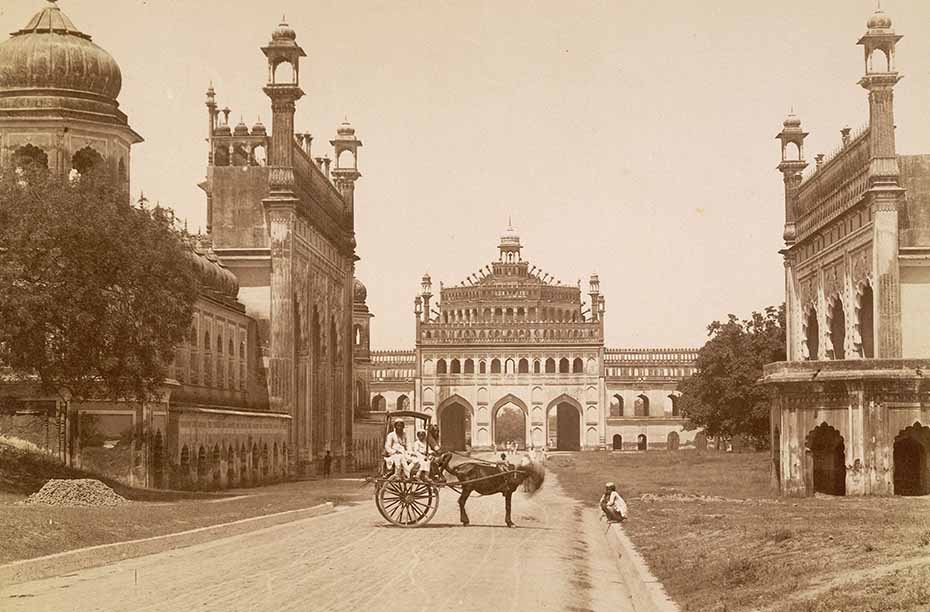 Made during the times of out-stretched famine and  scarcity of resources, this gate made use of humble materials like brick and lime instead of marble and sandstone that was a popular building material with the Mughals during those times. Awadhi craftsmen deftly used brick which allowed for fine details on the wall and column surfaces due to its small size and thickness. Bricks gave this structure a certain amount of lightness and daintiness. Stucco ornamentation, locally called gajkari, was used to decorate flat walls by creating deep-relief effect with lime plaster in various floral and vegetal motifs; the big arch is adorned with large petals of lotus.
The darwaza through history and today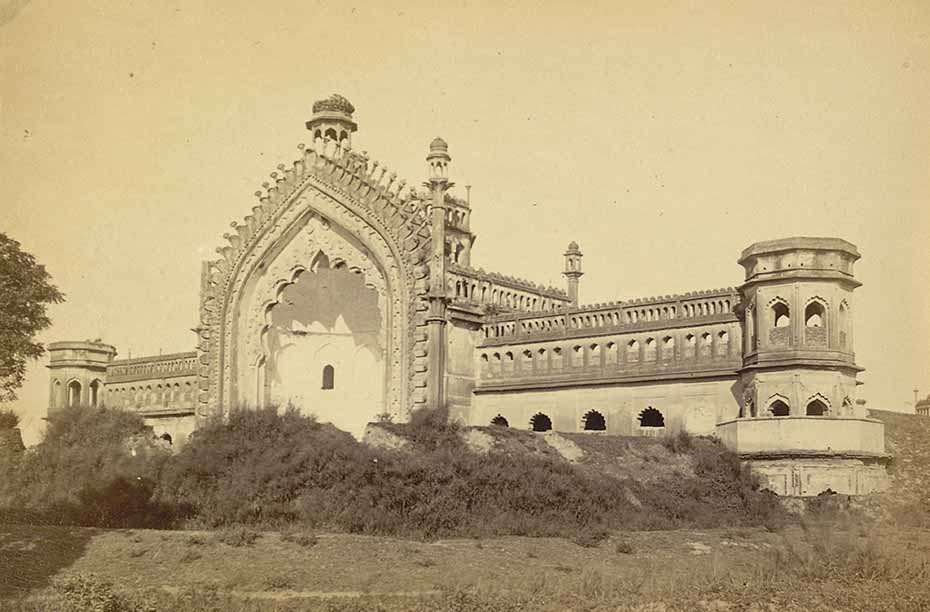 As the city of Nawabs grew and expanded, this gate came to be used as an entrance to a palace which was later demolished by the British insurgents post-mutiny.
The darwaza now lies between Bara Imambara and Chota Imambara; it forms an entrance to the forecourt of Bara Imambara. The road that passes through the gate is quite busy all day and may pose some serious threats to the structure. This heritage zone is well worth a heritage walk, to experience the flavor of Lucknow and to visualize how Lucknow must have been in the days before the British took over.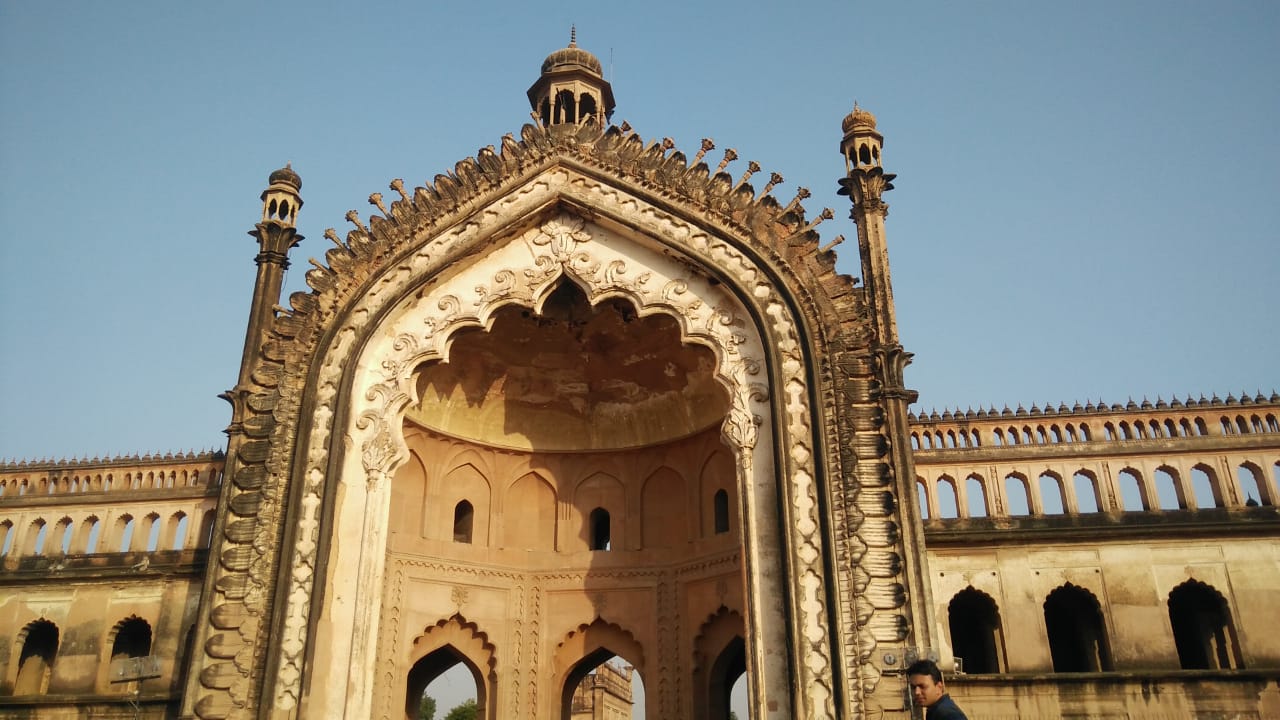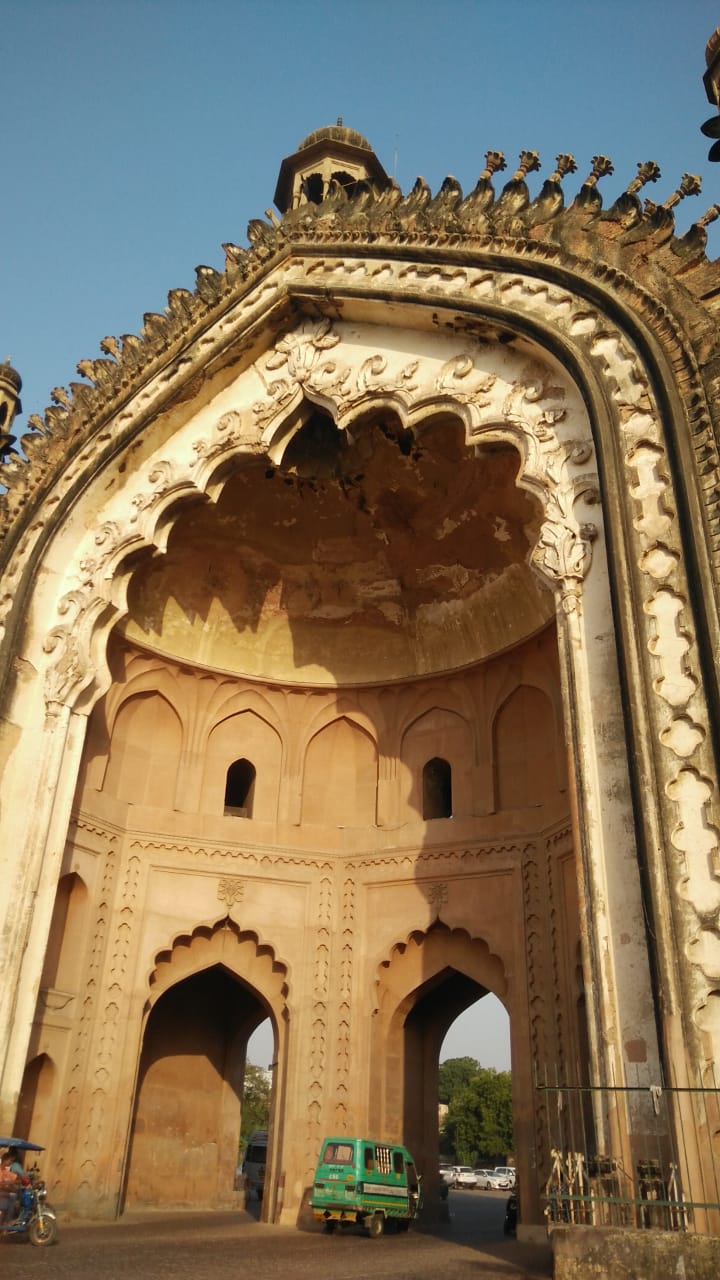 Picture Credits:
Old painting and Photos: The British Library
Recent Photos: Ashay Agarwal